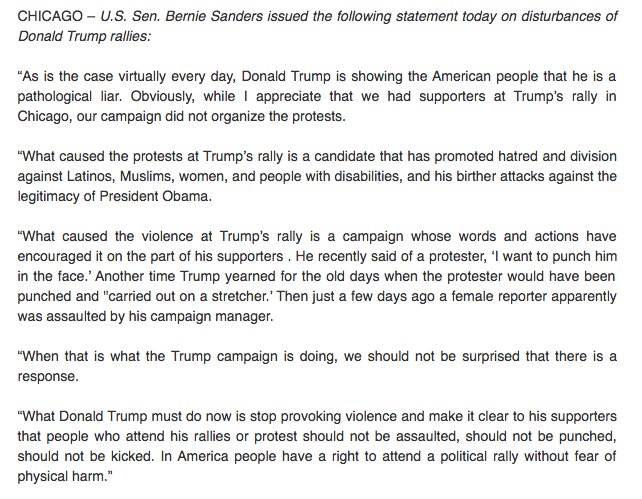 The above statement gives insight into the character of Bernie Sanders.
Multiculturalists attend Donald Trump rallies to deny freedom of assembly and freedom of association--to push, chase, block, punch, heckle, and otherwise incite violence, then assert victim status if any Trump supporter retaliates.
Few Trump supporters would do the same at a Democratic Party rally. And if Trump supporters did so, multiculturalists would claim the Trump supporters got what they deserved.
Sanders' quotes give tacit approval to the behavior of multiculturalists, to encourage mild red guarding.
None of this reality appears in Sanders' statement.
Instead, Sanders pretends to be above the fray while practicing demagoguery, by engaging in irrelevant ad hominem attacks.
Sanders acts as if he doesn't live in a land where whites have been constantly demonized for decades. Instead, the totalitarianism of cultural Marxism is the eternal victim. Atrocious behavior by multiculturalists, caused primarily by their genes and cultures, gets ignored or excused.
While Bernie Sanders is a comparatively civil guy for a contemporary politician, a Sanders presidency would see the federal government hire thousands of progressive multiculturalists devoted to totalitarianism and rent seeking. As in every Marxian nation, they would cause dystopian results while fellow believers, including Sanders, would make excuses and blame victims. Sanders' statement indicates he believes the cultural Marxian worldview, where whiteness is alleged to cause most of the world's ills while ignoring or dismissing overwhelming counter evidence that other factors cause nearly all the world's ills.
In Sanders' administration, mass destruction would be deemed necessary for the cause. And major red guarding would almost certainly result.